---
Rockman EXE: Operate Shooting Star
---
Game Details
| | |
| --- | --- |
| Image | (NDS) |
| Developer | Capcom |
| Publisher | Capcom |
| Genre | Data Action RPG |
| Players | 1-2 |
| Systems | » Nintendo DS |
| Media | » Cartridge (NDS) |
| Save Backup | » Battery (NDS) |
---
Release Notes
ロックマンエグゼ オペレート シューティングスター
Rockman EXE: Operate Shooting Star

2009.11.12 (NDS) [NTR-B6XJ-JPN] 4190yen
---
Information
This game was first announced at the World Hobby Fair event in June 2009. The event showed that the game is a crossover between Rockman EXE and Shooting Star Rockman. An interview with Takeshi Horinouchi hints that it's a remake of the GBA game Battle Network Rockman EXE.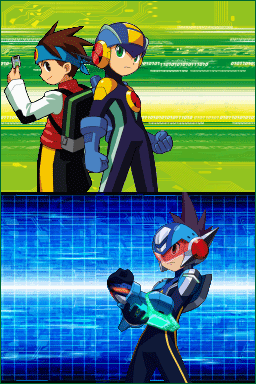 Subaru and War Rock are able to travel to the world of Rockman EXE, and interact with the familiar characters in Akihabara Town, and other familiar places. Not to mention being able to walk around in the net world, sporting a very handy map that shows up on the DS Touch Screen, which is very helpful, since a map wasn't available in the original game before.




The game will also introduce the new net navi Clockman, who was the CoroCoro boss character contest winner this year, and this net navi has the ability to control time itself.


---