Contests
Contest Select
Bathing Suit Contest 2009
Valentine's Day Contest 2010
---
Bathing Suit Contest 2009
Click a link:
Introduction | Entries & Results
---
Introduction
THIS CONTEST IS OVER! SEE THE ENTRIES AND RESULTS!

Since 2001, Maqqy's Mega Man Bathing Suit Contest has been a staple in the Rockman community. After a few glitches last year prevented any results from happening, the contest is back with the hope of being bigger and better than ever! Rockman Perfect Memories is proud to team up with Maq to co-host the 2009 Mega Man Bathing Suit Contest! New this year is the temptation of some Mega goodies. The winners of the two categories will have their choice of either a 1-year deviantART subscription or the Mega Man Official Complete Works artbook from UDON! There are also a few additional prizes ready for those exceptional artists who claim second place.

The rules have not changed over the years, nor will they now. There are two categories: the TALENT Category for artists who want to showcase their skills and the CONTENT Category for those who want to display their humor. You are allowed to submit two different entries, one for each category. Since the contest is getting started a little later, however, the deadline has been extended into early September. This will also shorten the time between when the winners are announced and when the MMOCW actually releases and is available to be sent to our winners.

Sample Drawing (by Akira)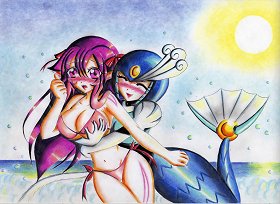 ---
*DEADLINE*

The deadline for this contest is Saturday, September 12th, 2009. This gives you nearly 3 months to complete your entries.

*RULES*

~ MegaMan/Rockman characters + swimwear = valid entry!

~ LIMIT 2 ENTIRES PER PERSON
Most places will only let you have one entry, but since there's two categories, we allow one entry for each, so you have twice as many chances of winning. However, if one of your entries places, the other will not be able to win any kind of placing. After all, it wouldn't be fair to let one person win all the prizes.

~ ALL MEDIUMS ACCEPTED
Watercolors, colored pencils, pastels, CG, it doesn't matter. As long as it's visible, it'll be accepted.

~ NO NUDITY
Maqqy actually had a bit of a problem with this the first year. Undressing the characters is perfectly fine, but you know, don't undress them too much. There's a line you just can't cross. Thongs are okay, as well as implied nudity (ie: only backside of character is showing, but they're obvoisly not wearing anything). If we think you've stepped beyond the relms of good taste, we'll chuck your picture aside (but not before allowing us taking a good long look at it first. *wink*)

~ CHARACTERS TO USE
Any character from the Classic, X, DASH/Legends, Zero, ZX, EXE/BN or Ryuusei/Star Force series is allowed. Fan-made characters are allowed, but please make sure to tell us who they are and which series they belong to.

~ CHOOSE YOUR CATEGORY
Since not everyone out there draws the same, there are TWO categories so everyone can enter. For those who wish to display their incredible humor, there's the CONTENT category. This placing will be judged by what's going on in your drawing, not how it's drawn. If you feel insecure about your artistic skills, try for this spot. For those who just want to draw, there's the TALENT category. This spot will be judged on how well you draw, how you use your choice medium(s), how clear the picture is, and so forth. Once you're ready to submit your picture, pick the category you wish for it to be judged in. If you do not pick one yourself, we will pick for you based on your picture.

*SUBMISSION GUIDELINES*

All entries can be sent to us in the following ways:

» Vixy's RPM mail at mistress@rockmanpm.com.
» Vixy's Gmail account at vixylicious@gmail.com.
» You can also send a Private Message on the forum.

*JUDGING*

This year's mystery judge panel will begin their judging within a few days after the deadline has passed.
---
*PRIZES ~ TALENT*

First (1st) place ~ Talent Category:
Your choice of either the Mega Man Official Complete Works (estimated to release on October 14th, so there will be a short waiting period after the contest ends) or a 1-year subscription to deviantART.

Second (2nd) place ~ Talent Category:
A set of 22 Link Battle Chips. Both the Talent and Content winners gets the same 20 chips, while the other 2 chips are different. The Talent winner will get a Recovery 150 and a Blues SP chip.

Third (3rd) place ~ Talent Category:
Both volumes of Shigeto Ikehara's Rockman 7 manga. (Volume 1) (Volume 2)
---
*PRIZES ~ CONTENT*

First (1st) place ~ Content Category:
Your choice of either the Mega Man Official Complete Works (estimated to release on October 14th, so there will be a short waiting period after the contest ends) or a 1-year subscription to deviantART.

Second (2nd) place ~ Content Category:
A set of 22 Link Battle Chips. Both the Talent and Content winners gets the same 20 chips, while the other 2 chips are different. The Content winner will get a Heat Man and a Slash Man chip.

Third (3rd) place ~ Content Category:
Rockman EXE Axess Japanese Capsule 5" Search Soul Figure and a Mattel 2" Metal Soul Figure (loose, not on card)
---